Levelling as a Tank in ESO can take a while to do if you are levelling as an actual Tank, but this is also an opportunity to make sure you have all skill lines unlocked, everything collected, abilities levelled and you've develop an understanding of your character class and how skills/passives work. This is our handy guide for any new Tanks in The Elder Scrolls Online!
The very first thing you should do is try to find a few guilds to join, you're able to join 5 guilds in The Elder Scrolls Online. You are looking for social / PvE based guilds with 300+ members so that you can find some help with getting some crafted gear.
You'll also want to have a good number of people you can press on in the guild members list so you can fast travel to them to unlock new zones and so you can use the chat to ask for any assistance with things in the game. You might also be lucky and find a guild that has a Trader that you can make use of to sell some things and make a bit of gold.
There are a few ways for levelling up:
Overland solo levelling and questing
Dungeon levelling
Master Writs levelling
Experience grinding
You need to get Skill Lines levelled up so first of all kill something with a Destruction Staff to unlock the first Destruction Staff skill, you will need this later in the game. Equip a One Hand and Shield and kill something to unlock the first One Hand and Shield Skill this is the main skill line for Tanking. You then have 3 class skill lines; you need to get the first skill from each of those and put those on your active ability bar.
With your skills setup, you need gear also. The best thing to do is ask for help with crafting some Training gear if you cannot do so yourself.
If you are Overland solo levelling it is a good idea to set up with 5 Light Armor, 1 Medium, 1 Heavy using a Destruction Staff – this is because levelling as a Tank is incredibly slow as you have low damage and high defence. Levelling this way includes doing Delves, Public Dungeons, Dolmens, Quests/Psijic Quests and more.
If you are levelling by doing Dungeons (Random Normal Dungeons) then you should set up with 5 Heavy Armor, 1 Medium, 1 Light using a One hand and Shield and at level 15 using a Destruction Staff on your second bar. Levelling this way is great for learning how to Tank on your class and you should use the group finder and search for Random Dungeons as you get bonus experience for doing this.
Use Training Gear as it will level you up much faster. Ask for help in a guild, zone chat or The Tank Club Discord.
Pick up Mages Guild Skill Line, Fighters Guild Skill Line, Undaunted Skill Line:

Once you complete the Tutorial, to join the Fighters Guild and Mages Guild you must travel to a large city. (See maps)

Pick up Psijic Order Skill Line (Summerset DLC or ESO+ only)

Complete the Summerset main story until you reach Artaeum where you will be able to speak with Loremaster Celarus to join the guild.

Level up Mount daily at the Stables (250 gold per day) start with mount Speed.
Complete Cyrodiil Introduction at level 10 for Support and Assault Skill Lines (Level 10+)
Complete your Group Finder: Random Daily Battleground (Level 10+)
Complete your Group Finder: Random Daily Dungeon (Level 10+)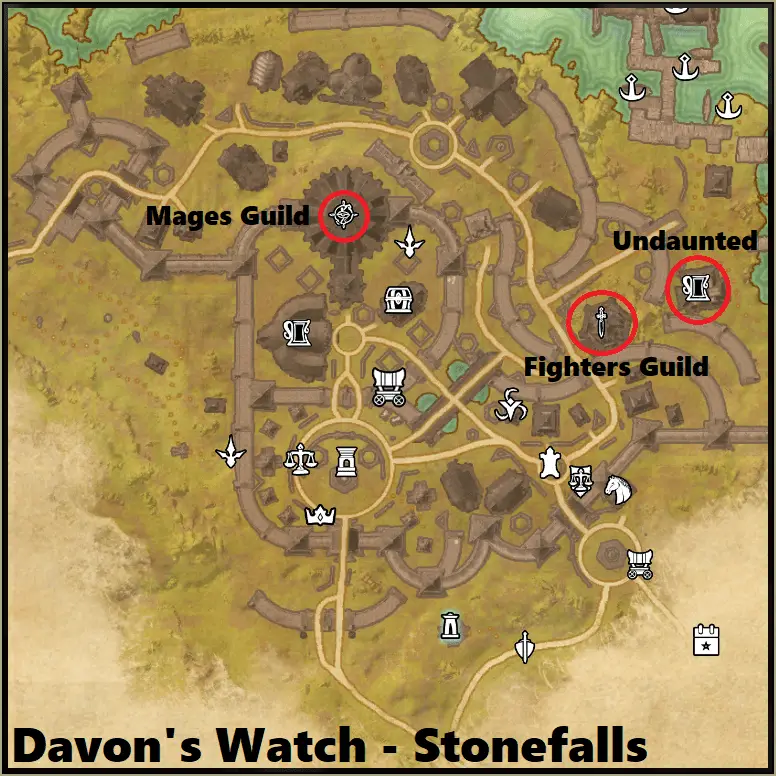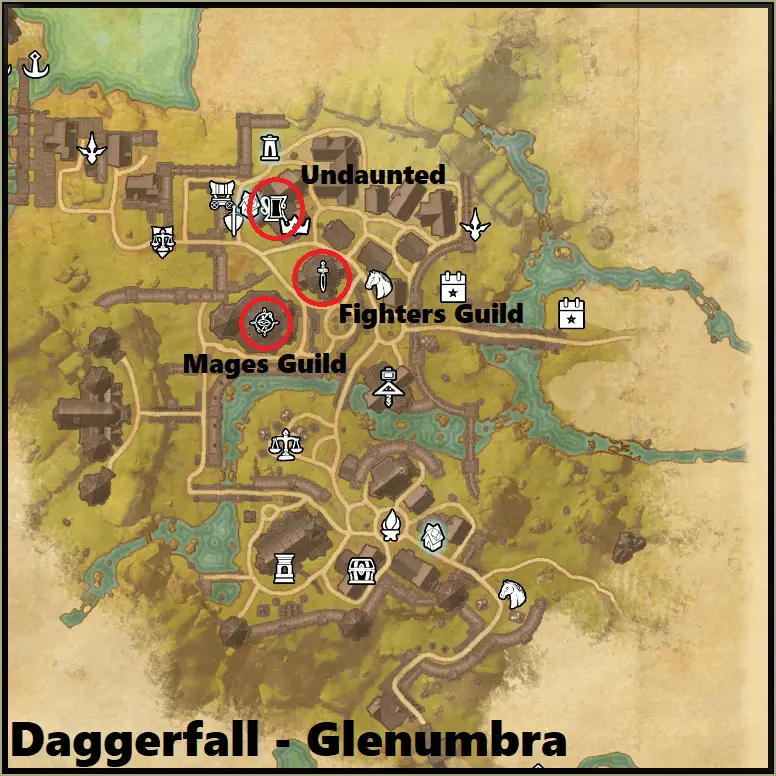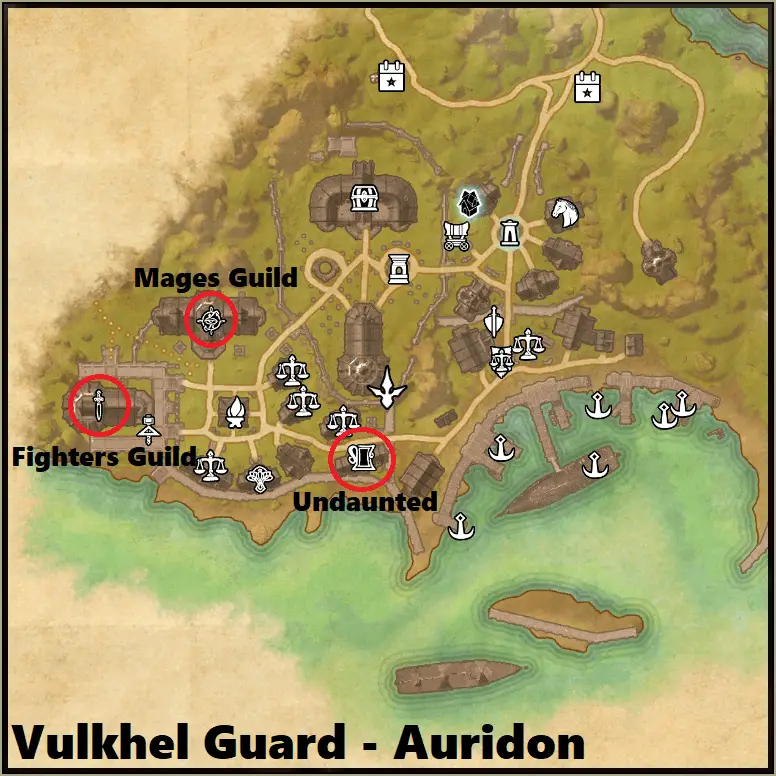 Best Ways of Levelling
The best way to level up overall is to combine all of the above, completing your random daily dungeons and battleground, collecting skyshards and lorebooks and completing your Psijic Order quests. Before you even start levelling up you should collect all of your important skill lines which you will need later in the game and it's much easier to level them up immediately rather than waiting until later. You need to travel to your Alliance major city and go to the Mages Guild, the Fighters Guild and the local Tavern to meet the Undaunted, pick up the 3 skill lines by talking to the NPCs.
Ebonheart Pact – Davon's Watch – Stonefalls
Daggerfall Covenant – Daggerfall – Gelnumbra
Aldmeri Dominion – Vulkhel Guard – Auridon
If you have either the Summerset DLC or ESO+ you then you need to start the Summerset main quest – you can do this by going to your collections, press on Summerset and click the "Accept Quest" button. This will then send you to Summerset and Shimmerene where you need to complete the main story quests in this area until you meet Valsirenn. Follow her and complete the tasks until she invites you to Artaeum. Once you reach Artaeum, look for Loremaster Celarus and complete his tasks to unlock the Psijic Order skill line.
Once you have the Psijic Order skills, you can start travelling around Tamriel doing the Psijic Order quests. When you are sent to a zone to close Psijic Portals, also pick up all Lorebooks in that zone, while you are doing that collect all of the Skyshards including the ones inside Delves and make sure you do any Dolmens that are active as they are a good experience boost. Levelling your skill lines at this point has a huge benefit and will help you to have a lot of options available for useful skills in the future.
Complete Psijic Order quest/close Psijic Portals
Collect Lorebooks
Collect Skyshards
Kill World Bosses
Complete Dolmens and Delves
Complete Public Dungeons and Public Dungeon Group Events
PvP Skills
Once you are level 10 it's a good idea to travel into Cyrodiil and complete the introduction quest, this will unlock the Support and Assault skill lines and also unlock the Continuous Attack passive which is worth putting 1 point into so you can to travel around Tamriel on your mount much faster. There are some very useful PvP skills especially War Horn and Purge, and if you reach Support 9 you can use Barrier and the Magicka Aid passive.
You should try to do your random daily battlegrounds which are extremely easy at a lower level and just use them for farming some easy Alliance Points for those skill lines. You can also just go into Cyrodiil and try to join a group then follow them around the map to collect some reasonably easy Alliance Points but PvP can be difficult at lower levels and its not really advised.