New World Tank Build
Welcome to The Tank Club: New World Tank Build for PvE content
This is a Tank Build designed for completing PvE content in the New World MMO as a Tank.
There are many ways to Tank in New World with a variety of gear, weapon and ability options. In this guide you'll find information on ways to get into content and begin doing the end game Mutations and learn about what Best in Slot gear to look out for.
Join The Tank Club Discord for all of your New World Tank help and discussion.
For more details on Tanking see our New World Tank Guide.
Contents
Is It Worth Playing in 2022? | New World
New World Tank Build Attributes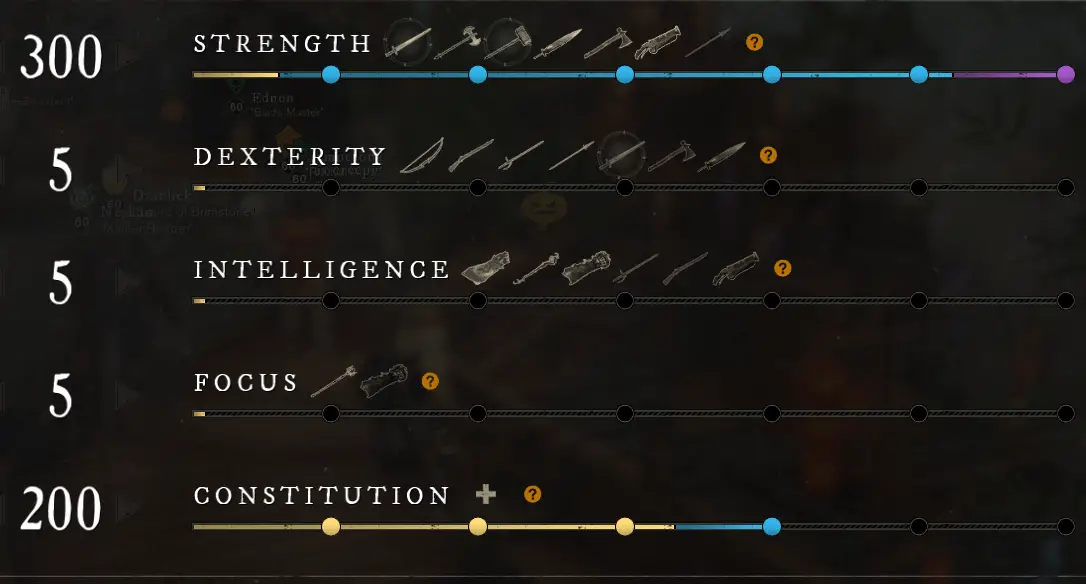 For your attributes, the best option is to use 300 STR or more, combined with 2o0 CON.
300 STR gives you Grit which is really important, it prevents you from getting knocked back so you can hold your positions much better while using Light and Heavy Attacks. You need to be using Light and Heavy Attacks a lot as a Tank because it's basically impossible to permanently block as a Tank in New World, so to maintain your Stamina you need to drop block for large portions of time during combat.
Grit is also very valuable since the most essential perk on your Sword is Refreshing Move which reduces your ability cooldowns from Light and Heavy Attacks, so you'll want to make use of that, and your other weapons benefit greatly from you doing regular Light and Heavy Attacks also.
Getting 200 CON is very useful as it unlocks increased resistances and provides you with more Max Health. Increasing CON past 200 doesn't really offer a huge benefit, you'll gain increased health, but the Attribute bonuses aren't as useful as the grit you get from 300 STR.
If you want to play a safer option, then go with 300 CON and 200 STR but this will not be as effective.
New World Tank Build Weapons
Best PvE Tank Weapon Combinations:
Sword & Shield + War Hammer
Sword & Shield + Great Axe
Sword & Shield + Hatchet
Other Weapons: Greatsword, Ice Gauntlet
The Sword & Shield is quite essential for PvE Tanking. It offers too many benefits to you as a Tank which assist you in damage reductions and other things. If you take the Leadership route it's also offering increased group damage passively.
The War Hammer is a great utility weapon. You have Rend and Weaken alongside Crowd Control. It's really hard to drop this weapon as it has so many benefits for your group and it's a high damage Tank weapon also.
Great Axe is something you can use to stack enemies and help your group to burn down enemies faster. Ideally you only use this in situations with a lot of enemies so you can bunch them up for your damage dealers.
Hatchets are used by Tanks to introduce additional methods of AoE Taunting and damage which leads to improved aggro and threat. You would often use this weapon choice for doing additional DPS where possible.
Greatsword is commonly asked about as a Tank weapon. I personally don't feel like it's good enough to replace the Sword & Shield and you cannot use it WITH the Sword & Shield because they are too similar, and you would end up losing way too much utility by not having a War Hammer or Great Axe. I use this mostly when completing overland content as it is a good Tank/DPS hybrid weapon.
Finally, the Ice Gauntlet is an option for DPS Tanking but not a really common option unless you're in a really organised group and using Light Armor.
New World Tank Build Armor
For your gear you want to run Heavy Armor to achieve a Heavy Equip Load.
When you are experienced and have an organised group, using Light or Medium is also an option for advanced Tanking for score pushing.
The equipment perks you should use depend on what weapon you are using; you should try to utilise the best ones for each weapon type, and you only need one of each specific weapon perk since they don't stack.
You are going to need more than one set of gear to be able to perform optimally as a Tank.
You need Ward gear which gives you reduced damage against a certain enemy type. You'll need at least 4 sets of armor, each one with one of four Wards – Ancient Ward, Angry Earth Ward, Corrupted Ward and Lost Ward.
When it comes to Amulets, you'll also need a few different options.
When you go into mutated Expeditions, they have certain damage bonuses to the enemy which you can build resistance against by using one of the following perks on your amulet: Flame, Frozen, Nature or Void Ward which reduce your incoming damage from those specific elements by a large amount.
New World Tank Build Heartrune
There are a few great Heartrunes to use with your Tank build for PvE.
Generally, the Brutal Grasping Vines is the best in slot Heartrune but mostly for add pulls since it offers group utility and benefits.
When you reach bosses the Stalwart or Greater Stoneform Heartrunes are very useful.
Read more: Best PvE Tank Heartrunes